FreightWaves Future of Supply Chain Summit
Tuesday, June 28, 2022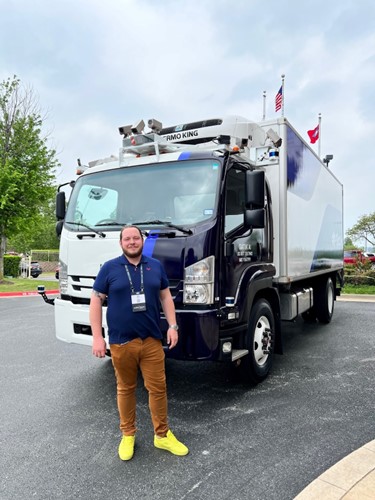 In mid-May, APEX Director of Business Development, Ian Vincent, attended the FreightWaves Future of Supply Chain Summit in Fayetteville, Arkansas, to learn from global logistics industry leaders about the cutting edge shifts in supply chain management and visualization in a late-stage pandemic world.
Vincent took in sessions from VPs of Amazon and JB Hunt, and a dozen other leading and diverse logistics firms. In addition to industry insiders, Vincent learned from representatives from the Pentagon discussing the global supply chain impacts of the war in Ukraine and continuing COVID shutdowns in China, as well as a professional from MIT Digital Economy who discussed the crucial nature of human leadership and cooperation in such a data and analytics centric industry.
Vincent also took in demonstrations of some of the most advanced equipment and tools driving the future of freight movement. These included the very first active and DOT certified driverless mid-mile delivery truck (Mid-mile meaning delivery from a distribution center to a warehouse or retail store). Another major topic of discussion at the summit was supply chain data visualization, which can allow movers to track millions of data points across their entire supply chain to make the absolute most informed decisions and reach peaks of efficiency once only dreamed about. These innovations are no longer futuristic, they are NOW!
As Vincent continues to pursue the action items identified in the Transportation Logistics Pathway Project, he will use his takeaways from the summit to further leverage our region's logistics resources to be an even stronger supply chain hub for the Great Lakes, United States and the world as we know it.